Window Mounting
Mounted Print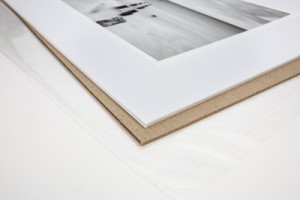 Prints are printed onto Hahnemuhle Photo Rag 308gsm and are then mounted using a window mount onto 1400 micron thick conservation board, this is then properly hinged to an undermount using acid free hinging tape so that the picture can breathe and move with any temperature and humidity changes. This stops the print from cockling (wrinkling). We can also use extra thick 2mm mount board for your window mount if you prefer. This board is slightly more expensive, but can add a real high quality feel to the artwork. If you would prefer this board please do not hesitate to contact us for a price.
All mounts are finished with a 1400 micron backing board and then supplied in clear print bags ready for retail. Alternatively at no extra cost you can opt to have a fluted  Art-Bak board which is a wonderful strong and rigid backing board that will give an extra stiffness to your mounted prints. Also available are other optional backing boards that can be included behind the standard mount board backing include 2mm MDF sheets or Art-Bak fluted board. These both add a stiffness to the product that can again give it a feel of a higher quality feel, especially in retail outlets.
We only use whitecore conservation mountboard for our window mounts. Using a whitecore board means the bevelled edge wont discolour as it's exposed to sunlight. With creamcore boards the bevelled edge will turn brown over the years. Whitecore board means the core will stay white. Conservation boards are much more expensive however they wont discolour over time and wont expose the artwork to acid over the years. We offer two types of mount backing board, standard mountboard or conservation mountboard. For more valuable works we recommend the conservation board as it is acid-free.