Giclee Printing
Our fine art giclee printing is fully optimised to ensure outstanding print quality. We have carefully chosen a range of fine art papers and always print with genuine Epson Ultrachrome K3 inks with vivid magenta. We use a fully icc colour calibrated workflow from monitors to printers & paper profiles.
Prints are printed onto a selection of Hahnemuhle,  Permajet & Fotospeed matt and cotton rag papers. Other paper stocks are available upon request. Hahnemuhle Photo Rag 308gsm & Fotospeed Smooth Cotton Fine Art Papers are currently our most popular papers for fine art printing, although we don't charge any extra for the other papers we also offer.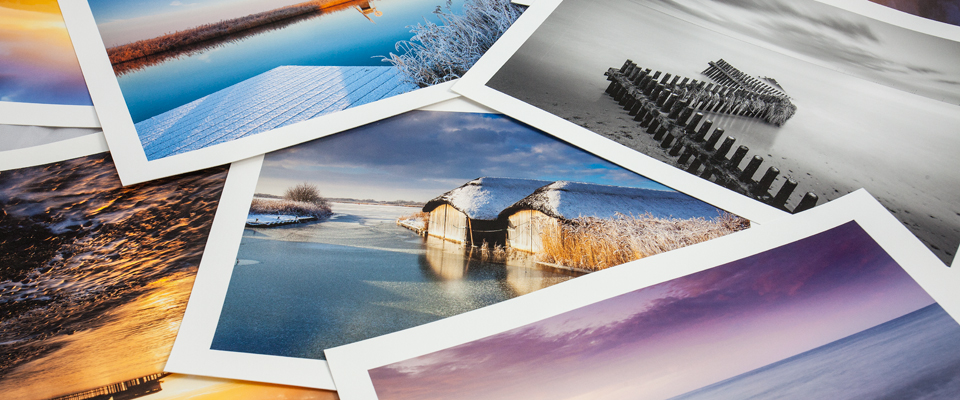 Available Papers

Hahnemuhle Photo Rag 308gsm
This smooth white cotton fine art paper is one of the most popular fine art papers on the market for photographers & artists. It offers stunning image quality and colours on an archival paper with no OBA's added. This is also our most popular paper. Read more about Hahnemuhle Photo Rag here.
Fotospeed NST Bright White 315gsmn
This is a 100% cotton Art paper with a very gentle texture. It is very hard to tell the surface finish apart from the Hahnemuhle Photo Rag apart from a slightly brighter base. The paper's bright white base and gentle texture lends itself towards landscape and portrait subjects and delivers a high D-MAX and wide colour gamut.
Fotospeed 300gsm smooth cotton
This is a 100% cotton Art paper producing the highest archival levels with a smooth white surface. This is a much smoother finish than the Hahnemuhle Photo Rag and is excellent for photography images.
Fotospeed Matt Ultra 240
A smooth white surface with excellent sharpness. This is the paper we use for our standard matt printing.
Fotospeed Platinum Etching 285
This is a newly developed Fine Art Paper made from 25% cotton and 75% Alpha cellulose. With a state of the art inkjet coating and velvety texture, It gives the user sharpness, colour gamut and density second to none. This is a slightly more textured paper to Photorag and has been really popular with customers who have tried it so far.
Fotospeed PF Lustre 275
PF Lustre 275 is a flat, stiff, middle-weight paper with a lustre finish.  The paper has a bright white base and an instant dry, micro-porous, coating.  This multi-award winning paper's wide colour gamut and high D-MAX delivers beautiful images, both in colour and B&W.
Fotospeed Platinum Baryta 300
A true Baryta gloss paper with fantastic detail and pefect for black and white images on gloss paper.

Hahnemuhle Fine Art Pearl 285
This papers offer a lovley pearl finish with excellent, colour, detail and contrast.
We also print onto other Hahnemuhle, Fotospeed, Harman & Canson Smooth and Textured Fine Art papers, although we don't always keep a  large stock of these papers, however we are always happy to order other papers in for larger printing jobs.
Test Packs
If you would like to order a test pack containing small samples of all of our available papers we stock these can be purchased via paypal below and are priced at £2.00 including postage to the UK.
Populars Sizes & Prices
| Print Paper Size | Print Only Fine Art Giclee | Standard Matt Paper (non fine art) | Fine Art Print, Window Mount, Back and Cellophane Bag | Framed Fine Art Print With Window Mount (includes Printing, Mounting & Framing) |
| --- | --- | --- | --- | --- |
| A4 (297 x 210mm / 11.7 x 8.3 inch's) | £5.45 | £4.25 | £8.00 | £31.84 |
| A3 (420 x 297mm / 16.5 x 11.7 inch's) | £6.95 | £5.60 | £13.00 | £36.50 |
| A3 + (483 x 329mm / 13 x 19 inch's) | £9.55 | £8.55 | £18.00 | £40.00 |
| A2 (594 x 420mm / 23.4 x 16.5 inch's) | £12.00 | £10.00 | £25.00 | £53.00 |
| A1 (841 x 594mm (33.1 x 23.4 inch's) | £25.00 | £20.00 | £38.00 | £90.00 |
The above table shows the most popular sizing options based on the paper size. Please note the image size will be slightly smaller than the paper size as there will be a small white border around the print. If you require the print to be an exact print size please refer to the next table below.
We can mount your work with an equal border all around or we can mount to standard frame sizes. Photographers who sell their work in retail outlets or a craft fairs tend to prefer to work this way as their customers can then place the mounted print straight into an off the shelf frame. The sizes above refer to the paper size of the print. When the image is then mounted it further extends the area of the product. We can mount A4 sizes to 16 x 12 inchs or 30 x 40 cms. For A3 we can mount to 20 x 16 inchs or 40 x 50 cms. A2 we can mount to 30 x 20 inchs or 50 x 70 cms.
If mounting to standard frame sizes the borders on the mount will usually be slightly uneven. With either the top or bottom borders slightly wider than the side borders or vice versa. If you would prefer equal borders all around we can do this at no extra cost. For framed images we always add equal borders all around unless instructed otherwise. We will always confirm the mounting options via email before we complete your order.
Exact Print Size Options
| Exact Print Size | Fine Art | Standard Matt |
| --- | --- | --- |
| 8 x 10 inchs | £5.50 | £4.20 |
| 12 x 8 inchs | £6.00 | £4.30 |
| A4 210 x 297 mm | £5.45 | £4.30 |
| 300 x 400 mm | £6.80 | £5.70 |
| 16 x 12 inchs | £7.50 | £6.00 |
| A3 420 x 297 mm | £6.95 | £6.50 |
| 18 x 12 inchs | £10.00 | £8.00 |
| 20 x 16 inchs | £12.00 | £9.20 |
| A2 594 x 420mm | £12.00 | £9.75 |
| 24 x 16 inchs | £16.75 | £11.00 |
| 700 x 500mm | £27.00 | £17.00 |
| A1 594 x 841mm | £28.00 | £19.00 |
The above table lists prices with print options for the exact print size. Our standard option is to offer a very slight border around the printed image and this is the case with our standard sizes for A4, A3, A2 and A1 sheets in the first table. So for instance the printed area of an A4 sheet will be slightly smaller than the size of the actual paper. The sizes in the above table are based on the print area being the exact size stated with a small white border around the image. If the printed image area you require is exactly A4 then it would have to be printed on a paper slightly bigger than an A4 sheet to achieve a print area of A4. This is why you will see the prices differ slightly between the above table and the first table.
Mounted Print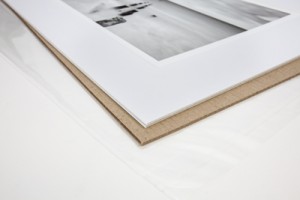 Prints are printed onto Hahnemuhle Photo Rag 308gsm and are then mounted using a window mount onto 1400 micron thick conservation board, this is then properly hinged to an undermount using acid free hinging tape so that the picture can breathe and move with any temperature and humidity changes. This stops the print from cockling (wrinkling). We can also use extra thick 2mm mount board for your window mount if you prefer. This board is slightly more expensive, but can add a real high quality feel to the artwork. If you would prefer this board please do not hesitate to contact us for a price.
All mounts are finished with a 1400 micron backing board and then supplied in clear print bags ready for retail. Alternatively at no extra cost you can opt to have a fluted  Art-Bak board which is a wonderful strong and rigid backing board that will give an extra stiffness to your mounted prints. Also available are other optional backing boards that can be included behind the standard mount board backing include 2mm MDF sheets or Art-Bak fluted board. These both add a stiffness to the product that can again give it a feel of a higher quality feel, especially in retail outlets.
We only use whitecore conservation mountboard for our window mounts. Using a whitecore board means the bevelled edge wont discolour as it's exposed to sunlight. With creamcore boards the bevelled edge will turn brown over the years. Whitecore board means the core will stay white. Conservation boards are much more expensive however they wont discolour over time and wont expose the artwork to acid over the years. We offer two types of mount backing board, standard mountboard or conservation mountboard. For more valuable works we recommend the conservation board as it is acid-free.
Print, Mount & Framed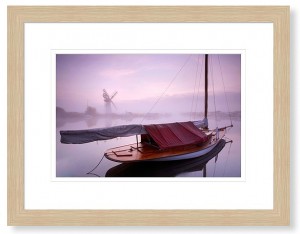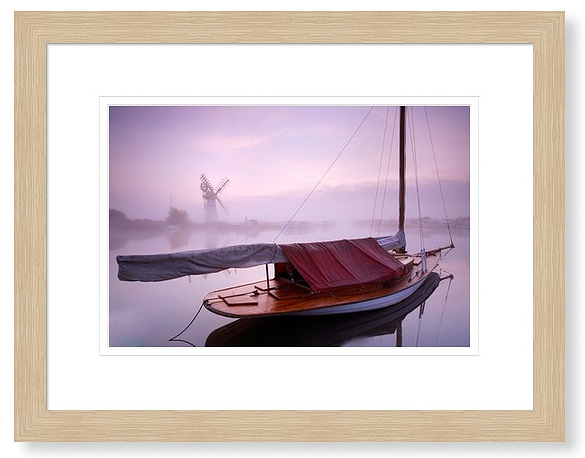 The image is mounted as above with a window mount and then professionally framed, we cut all frames from scratch using a Morso Picture Framers mitre cutting to ensure accurate and precise measurements and perfect corners.  Glass is then accurately cut and we seal the sandwich between the glass and the mounted print with specialist acid free tape. We then finish with 2mm MDF backing board where your image is then properly sealed on the back of the board with framers tape. This ensure dust is kept out of the frame and also ensure small insects such as thunder flies cant get behind the glass. Further details on available frames can be found on the framing & Mounting page.
Canvas Prints
Canvas prints are made are printed onto 350gsm photo matte canvas. Using Epson's ultrachrome inks onto this higher quality media ensures the images are vivid and ultra crisp. The canvas in then sealed using a satin coat, this protects the artwork and enhances the colours, once coated the canvas is protected from finger prints, scratching and moisture, it can also be wiped clean. Further details on our Canvas products can be found on the Canvas page.
Canvas Print Only
Some photographers and artists prefer to stretch their own canvas over ready made stretcher bars, in this instance we can supply the canvas prints completed with satin coat so that they are all ready for stretching
Stretched Canvas
Our Pro Stretched Canvas product uses premium stretcher bars which come complete with wedges at the back. Over time canvasses can loose tension, however with the wedges inserted at the back the customer can simply increase the tension at a later date should this be required. Both of our stretcher bar sizes come with  wedges supplied.
Framed Canvas
It is becoming increasingly popular and fashionable to have a frame around the Canvas itself, the choice of frames will differ slightly from our usual stock, if this is something you are interested in then please get in touch and we can discuss options and prices.
Greetings Cards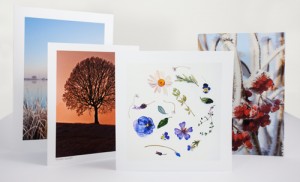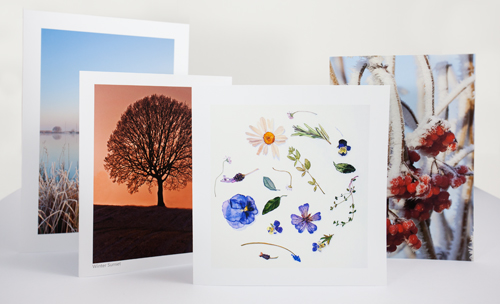 Our greetings cards are inkjet printed onto high quality Permajet double sided paper for excellent colours and details. All cards are individually printed using the giclee process, this results in far superior colours and detail from the cards and also ensures our customers can order in quantities as low as one card without having to order hundreds of the same design as is the case with a lot of the digital / litho printers.
We offer three different options for greetings cards. Option 1, Option 2 and option 3.
Option 1
Option 1 is our standard greetings card range and includes your image printed on the front with a small 15mm white border all the way around the image. To ensure the border is equal all around your image it should be in the 3 by 2 format. Greetings cards can be supplied as the card only or we can also supply them with white gummed envelopes and cellophane bags ready for retail. Our standard paper weight is 250gsm. The cards are supplied ready folded. We can supply greetings cards on heavier paper stock too, please see Option 3 below.
Option 2
Option 2 Allows for cards to be printed to A5, A6 size or 5 x 7 inch size, (other sizes also available upon request.) With this option You can choose to have your images printed with a white border, borderless or you can supply your cards ready designed for printing how you like, this can also include text and images on the back of the card should you wish.
Option 3, Luxury Fine Art Greetings Cards
We can also offer a luxury fine art greetings card range. These are printed onto special fine art greetings card stock at 310gsm, These cards offer fantastic and accurate colours and clarity in the image. They are also printed at a higher resolution than our standard range. This card stock is a lot more expensive to buy in and is aimed at those who need a real high quality card for small print runs. We three sizes for these cards A6 and A5 and 7 x 5 inchs. A6 cards are priced at £1.40 and A5 & 7 x 5inch cards are priced at £2.00 each. Both include envelopes and cellophane pouches.