Window Mounted Fine Art Prints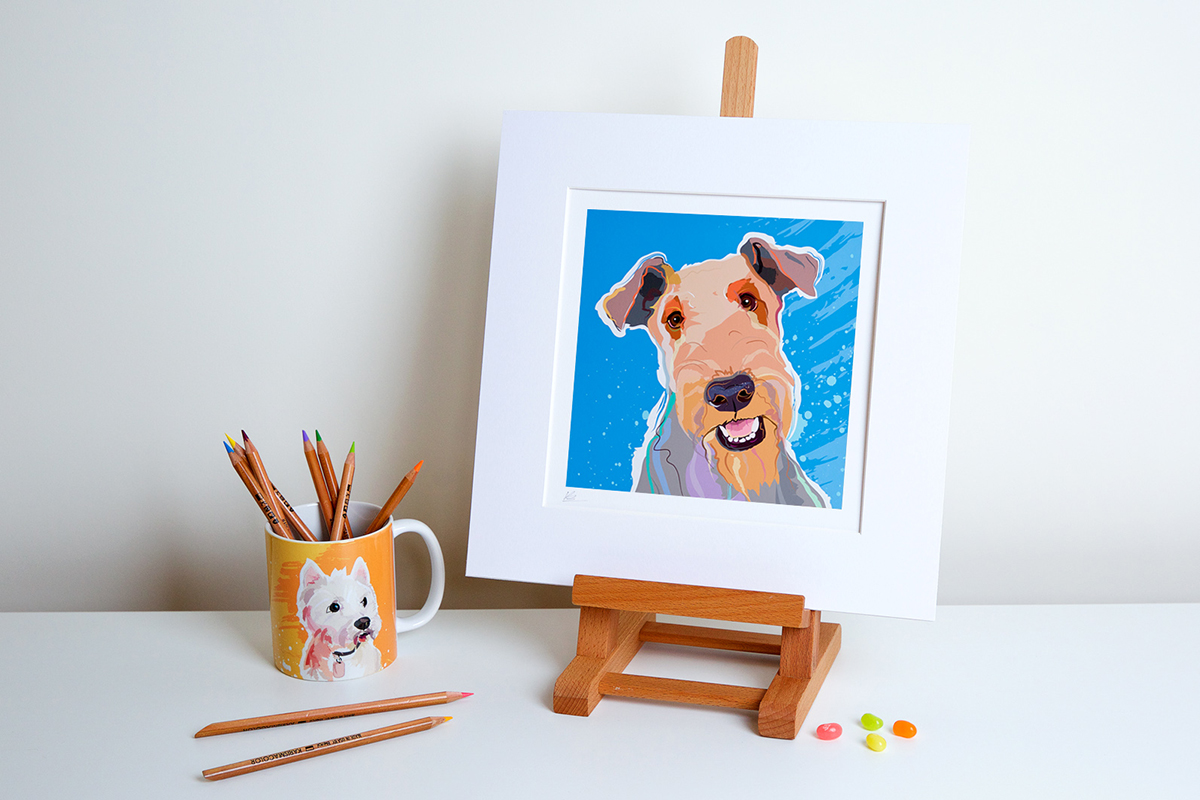 One of our most popular services is our fine art window mounting print service. We can ship one off orders either direct to yourself or to your customers or we can handle larger orders ready for retail or exhibitions. Once mounted the image are ready to frame and if you have them mounted to standard frame sizes they will fit straight into a standard picture frame.
We begin by producing your artwork as a fine art giclee print and then this is mounted with a window mount and backing. Our standard mountboard is 1400 microns thick, although extra thick mountboard is available upon request, as are double mounts.
A mounted print will comprise of a window mount and backing board, these are then joined together on one side. All prints are correctly mounted to the backing board using acid free mounting tape and T hinges, this allows the print to react to changes in temperature and humidity, this stops the print from cockling. Once your product is mounted it will then be placed in a high quality self adhesive print bag for most standard frame sizes. If your mounted print is not mounted to a standard size then then your image will be wrapped in clear cellophane.
We only stock Whitecore and Consevation Boards. Our brighter mountboards such as Snow White & Textured White are whitecore only boards, they do not contain any bleaching agents and meet all mountboard conservation standards apart from the fact they they contain OBA's to give the mountboard the brighter appearance. Although OBA's do not damage the artwork, because of their presence the Fine Art Trade Guild does not classify these as conservation boards. Our brightest white mountboard that meets conservation standard is Arqadia's Glacier Board. With whitecore & conservation boards you can rest assured that the bevel of the mount will not discolour and go a creamy brown, as is the case with cheaper spec mountboards.
We stock the below mountboard colours for the window mounts, although over 100 other colours are available upon request. By far our most popular coloured mountboard is our Snow White board.
Snow White
smooth board that is our brightest and most popular board, it also combines well with the colour of most of our giclee papers if you are planning on using a print border.
Textured White
Textured board, not as bright as our Snow White board
Glacier
Glacier is more of a natural white and is our brightest white board for those that are after a conservation level white board.
Hayseed
Hayseed is more of an off white textured board that is often popular with artists
Pale Ivory
Pale Ivory is the perfect board for those looking for an ivory/light cream board.
Euro Grey
Euro Grey is a light grey board with a slight texture
Charcoal Grey
Black (White Core)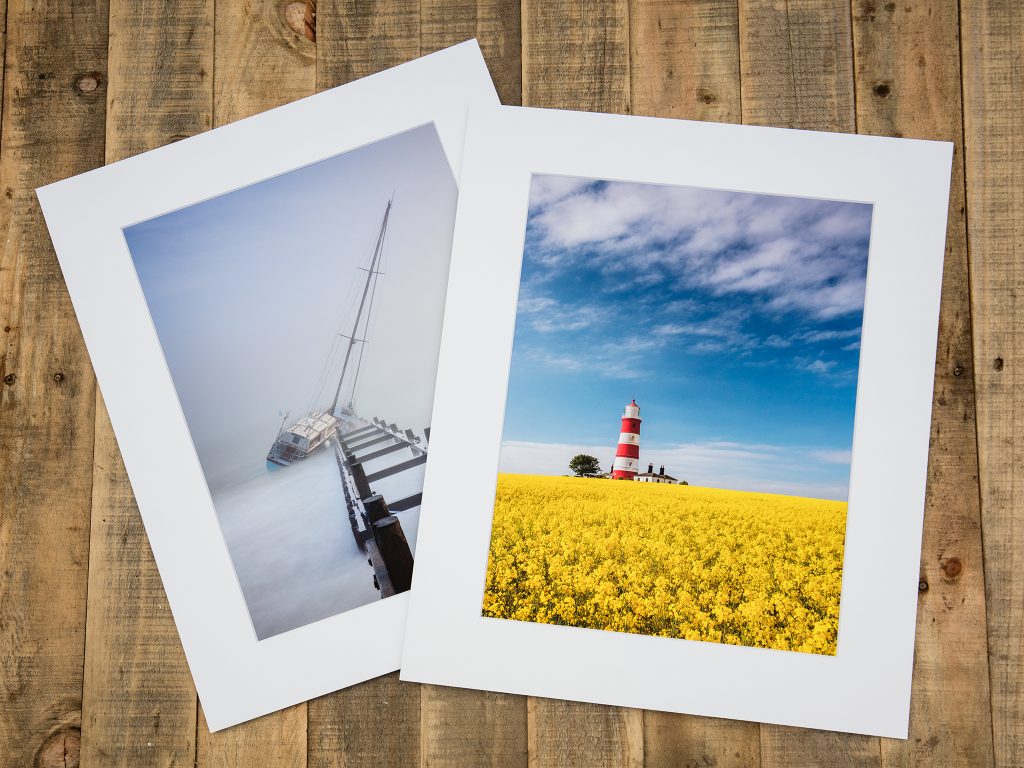 Things to consider before sending through artwork
Step 1
The first step is to decide if you want your image close mounted or mounted with a print border. We can mount your images close mounted so there is no border between the mount and image, this is our most popular option, (approx 0.5 cms of the image will be hidden on each side of the mount). Additionally we can also mount your work with a small print border between the image and the mount. This then allows the photographer to sign and title the image on the artwork and you don't lose any of the image behind the mount. We don't charge extra for what ever option you decide, it really come down to the look you are after.
Example Below
Step 2, Size
When you are ordering mounted prints there are a few things to consider before sending through your images for print. The main one to think about revolves around mounted image size. Most people opt to have their images mounted to fit standard frame sizes, this means they will fit straight into ready made frame sizes which can be a big selling point for perspective customers looking to by an artists work. If you are opting for mounts that fit a standard frame sizes then you need to decide if you are going to crop your images to fit the standard frame sizes or if you would like the mount margins uneven to make up the difference.
By far the most popular ready made mounted frame sizes are 16 x 12 inchs, 30 x 40cms, 20 x 16 inchs, 40 x 50 cms other sizes that are also popular are 11 x 14 inchs, 30 x 30 cms, 40 x 40cms, 50 x 50cms, 70 x 50cms and 80 x 60cms.
If you want your mount margins nice and even and matching which can be big plus when selling in a retail environment then it can be worth considering cropping your images before they are sent over. For example if you opt for a 50 x 40 cm mounted product and decide on a print border of 1cms on each side + 5cm mount margins on all sides then you would need to crop your image to 38 x 28 cms.
The actual width of the mount margin varies depending on the size of your image, we can decide what works best ourselves or we are happy to let you decide. Smaller frames often work well with a margin of around 5 – 6 cm where as larger images will look better with a wider margin. You can choose to have equal margins, or some people prefer a heavier margin at the bottom
Step 3
Once you have decided on sizing the final options are to choose your fine art paper choice and then finally your mount colour.
Popular Size Mounting Price List (price includes fine art  giclee printing)
Other sizes also available
| Print Size | Price (including printing, mounting & cello bag) |
| --- | --- |
| 8 x 10 inchs | £6.95 |
| 12 x 8 inchs | £8.50 |
| A4 | £8.50 |
| 30 x 40 cms | £13.50 |
| A3 | £13.50 |
| 16 x 12 inchs | £13.50 |
| 18 x 12 inchs | £14.50 |
| 20 x 16 inchs | £25.00 |
| A2 | £27.00 |
| 24 x 16 inchs | £27.00 |
| A1 | £44.00 |
VAT
We are not VAT registered so there is not VAT due on top of our prices.
Delivery
Please contact us for a delivery quote.