Giclee Printing & Picture Framing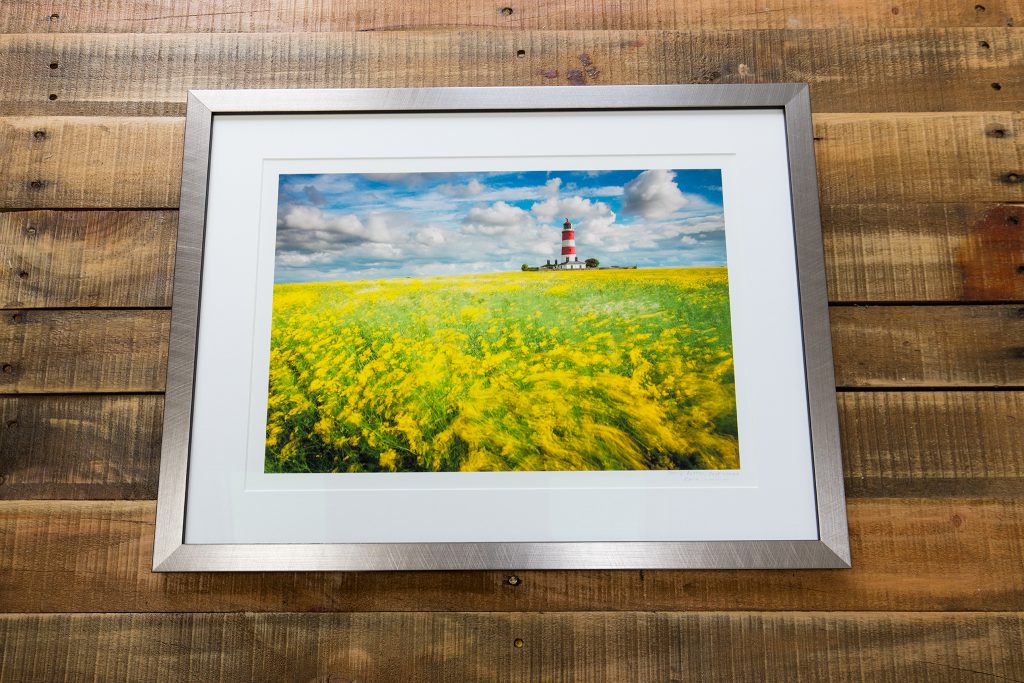 Picture framing
Along with Giclee printing and mounting we can also frame your artwork, we offer a full picture framing service. By having your work professionally framed not only will the standard be much higher than ready made off the shelf frames, but your artwork will also be much better protected. Good quality framing will enhance, compliment and protect the artwork for the future. For many art buyers the frame can be just as important as the image itself.
We seal all frames on the rear and also seal between the glass and undermount, this stops not only dust getting the wrong side of the frame, but also insects such as thundeflies. Our standard frames are always sealed on the back, however we can also supply ready made frames that you can easily remove the backs from should you wish. If you would prefer your frames as ready made frames with flexible tabs on the back we can offer this. These are ideal for exhibitions where artists & photographers can regularly change the images in a particular frame.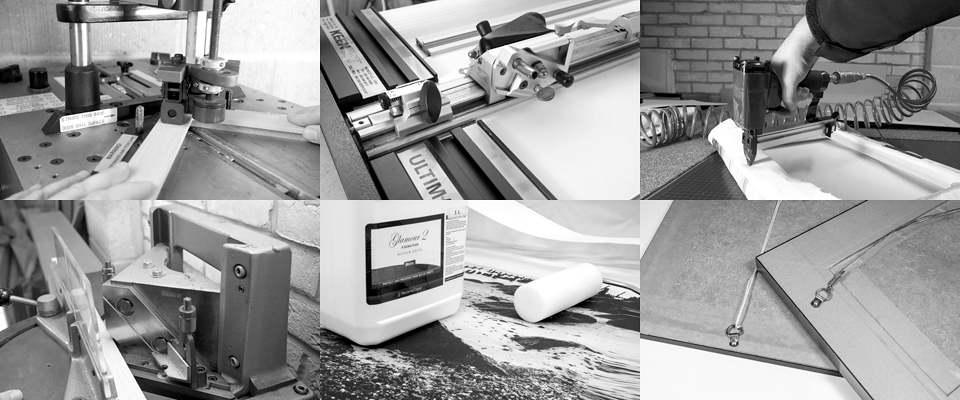 With our Picture Framing we produce all frames from start to finish on high end professional framing equipment to ensure a high quality and consistent finish.
To keep things simple we only stock popular colours such as contemporary black & white mouldings and plain woods like Ash, Oak. However, we do have access to thousands of different mouldings & mountboards through our suppliers and the majority of these can normally be delivered the next working day. If you would like to see some alternative moulding options then please do not hesitate to contact us and we can email over a brochure and quote a price depending upon the moulding option.
Picture Framing Price List (includes mounting & printing)
| Print Size | Moulding A | Moulding B | Moulding C |
| --- | --- | --- | --- |
| 8 x 10 inchs | £35.25 | £37.84 | £43.00 |
| 12 x 8 inchs | £36.85 | £39.00 | £43.50 |
| A4 (210mm x 297mm) | £36.85 | £39.00 | £43.50 |
| 300mm x 400mm | £41.00 | £43.00 | £49.00 |
| 16 x 12 inchs | £41.00 | £43.00 | £49.00 |
| A3 (420 x 297mm) | £41.00 | £43.00 | £49.00 |
| 18 x 12 inchs | £42.00 | £44.00 | £49.50 |
| 20 x 16 inchs | £52.00 | £56.00 | £62.00 |
| A2 (594mm x 420mm) | £56.00 | £59.50 | £66.00 |
| 24 x 16 inchs | £59.00 | £63.50 | £69.50 |
| 700 x 500mm | £93.00 | £96.00 | £104.00 |
| A1 (841mm by 594mm) | £115.00 | £115.00 | £128.00 |
VAT
We are not VAT registered so there is not VAT due on top of our prices which helps keep our prices low.
The above prices include printing onto fine art rag paper and mounting plus framing. We can just frame your existing work at a reduced cost if you do not require printing. We can also print and mount to other sizes too, up to 120 cms. There are too many different printing sizes to list so we have just listed a few of the popular sizes above, if you would like a price on any other size then please do not hesitate to contact us.
Step 1 choose your fine art Paper
The first step is to choose what fine art paper you would like, the full list of available papers can be found on the printing page.
Step 2 choose your Mountboard
Mountboard Options
All prints are mounted using a front window mount cut from 1400 Micron Thick whitecore or conservation mountboard. The mount is then finished with a backing piece of mountboard (known as the undermount) that sits behind the window mount, and it is this that the print is mounted to.
Snow White
smooth board that is our brightest and most popular board, it also combines well with the colour of most of our giclee papers if you are planning on using a print border.
Textured White
Textured board, not as bright as our Snow White board
Glacier
Glacier is more of a natural white and is our brightest white board for those that are after a conservation level white board.
Hayseed
Hayseed is more of an off white textured board that is often popular with artists
Pale Ivory
Pale Ivory is the perfect board for those looking for an ivory/light cream board.
Euro Grey
Euro Grey is a light grey board with a slight texture
Charcoal Grey
Black
We stock the Above mountboards for the window mounts, although over 100 other colours are available upon request. Our default and most popular colour is conservation smooth snow white. Another option that is very popular is the slightly textured hayseed board. Our brighter mountboards such as Snow White & Textured White are whitecore only boards, they do not contain any bleaching agents and meet all mountboard conservation standards apart from the fact they they contain OBA's to give the mountboard the brighter appearance. Although OBA's do not damage the artwork, becuase of their pressence the Fine Art Trade Guild does not clasify these as conservation boards. Our brightest white mountboard that meets conservation satndard is Arqadias Glacier Board.
We can mount your images with a slight border between the mount and image, for examples of this please see the mountboard detail images near the bottom of this page. We can also use double mounts for your images too.
All pictures are mounted using acid free tapes and correctly hinged to the backboard to allow the artwork to expand and contract with temperature and humidity changes. This is especially important if the picture is to be located above or close to a heat source such as a radiator or fireplace.
If you would like to sign your images before they are framed then this is not a problem. We can either post the image back to you or the mounted image if you would like to sign the mount, these would then be returned to us ready for us to frame. Please note there will be an extra postage charge for this. We can also send frames to you with removable bendy tabs that can be open as and when required.
Thicker Mounts
Extra thick mountboards are available upon request, due to the extra thickness involved these can limit the use of available frames as you will need frames with suficant rebate depth to deal with the extra thickness.
Step 3 choose your frame moulding
Moulding Options
Click each image for further info
Step 4 choose your glazing
We use real glass in all of our frames, for the simple reason it looks much better than cheaper plastic. Our standard frames all ship with 2mm float glass, but we we also offer an upgraded glass option in the form of anti reflective artglass, sometimes referred to as invisible glass. We stock normal float glass and reflection three artglass in the workshop, anything else is ordered in upon request. We can also offer other options such as Acrylic, Water White glass, UV and Museum glass. If you would like a quote on frames with specialist glazing then please do not hesitate to contact us for a quote.

Reflection Free  Artglass Glass from Groglass
This glass is different to diffused Anti Reflection Glass. It reduces reflections to less 1% making it extremely difficult to spot that there is glass there at all. The results is enhanced colours, brightness, reflection free viewing and maximum clarity. This glass is stunning when used in framing, it is expensive to buy in costing so it does increase the price of frames slightly. It's best to ask for a quote, but to give you an idea a frame with an image based with a print size of A3 would add an extra £15.00 to the price. For approx A2 this is £35 extra.
For more details on specialist glazing check out the article in the link below.
http://www.theuklandscape.com/specialist-glazing-framed-pictures/
Delivery
Delivery for framed items is £12.99 per package. In one package you can get three frames at A3 or two at A2 size. Framed orders are sent via Parcelforce.
A1 and 70 x 50 cm print size frames have to go via a different service and this costs £24.99 each item.
Packaging is extremely important when sending glass frames via the post so all items are extremely well packaged.